this travel blog is written in english –  wer den Blog lieber in Deutsch lesen mag hier :  #google# 
2 months  Cambodia  

I'm a Buddhist and in Germany Buddhists are a minority. Usaly – when I'm in Buddhist countries I immediately feel at home.
Now let's see if this is also the case in cambodia ! 🙂
I have already visited some Buddhist countries. I then usaly look for monasteries to meditate and look around the country with by bicycle.
I was in Myanmar three years ago. I would have loved to go back to Myanmar, but there was this military coup.
So I am 2023 in Cambodia. I took 2 months to do this. 6 weeks alone and the last 3 weeks I will explore the country by bicycle with Rebekka, my girlfriend from Germany. I packed a bike and took it with me on the plane. Whether a carbon frame and a mountain bike are a good combination ?
I will find out !
I would not buy a bike for 2000€,  but if it is for 460€ to get – OK ! I get it on ebay just 3 days before departure.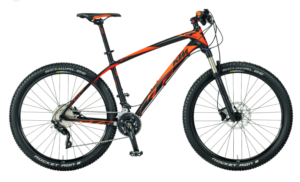 Before I write about my trip to the temples in Udon, I must first explain why I spent time with such nice women from Cambodia and hardly saw or met any foreigners.
The most popular dating app in Cambodia is Badoo.
Four weeks before my trip I created a profile and wrote to several women from Phnom Peng.
Sounds fun ? It was work to navigate through all those message profiles and faces to find some interesting contacts. I had decided to meet exactly 3 women, no more no less, and was curious to see what would come of it. 
I will introduce you to the other two women later and tell you a bit more about dating in Cambodia. 
Cham is one of the 3.  She runs a noble restaurant in Phnom Penh for traditional Khmer cuisine. She has been divorced for four years and laughingly tells me : she has no time for a relationship, because she is married to her job.
In fact, she texts almost continuously on one of her two cell phones. She is intelligent and humorous and we had a very nice day in Udong.
Udong Mountain  – The Old Capital
If you are stuck in the less attractive city of Phnom Penh for any reason, you can take a day trip to Udong. In my case, it was because my luggage didn't arrive and because I was apply to get a driving licence.
You will climb the hill from the back of the ridge and go down the hill from the 509 steps stairway. Several religious structure and royal stupas which contain the remains of several great Khmer Kings dot the ridgeline of the hill. The summit of Phnom Oudong offers spectacular views of the surrounding countryside; the beautiful Kandal Temple peacefully sits in the middle of plains and rice fields.
.
to view the images : click on them and then navigate with –> / <–.
So here are my pictures from Kampot. It is probably the cosiest place in Cambodia and many people who left Europe live here. However, 70% of them are people who are here for the cheap alcohol and who I would call "friendly alcoholics living on European welfare". Most of them are already around 60+ or older. If you want to get out for a while – it's a bad choice – you can get a beautiful flat in the rice fields on the outskirts of town for $100-150 or a whole house for $200/month.
Kampot 
what should I do ?
A big city and big adventure playground or do I want to go into the periphery in to the nature ?
From Germany I had already booked an apartment in Kampot, after two days later then also my bicycle had arrived, it went from Phnom Pengh in the direction of Kampot.
In Kampot – as beautiful as it is there – I notice that I don't get any contacts via Badoo at all. So my situation was that I had a nice quiet cheap flat in Kampot.
But the interesting people I wanted to meet were all in PP (Phnom Penh).

There were two interesting contacts in Kampot:
Maike from Meraki Resort and Chloe.
I met Chloe through my web search, she has been living here in Kampot for over 1 year. Originally from UK. 
She likes the mushrooms and always finds them on the ways in the area.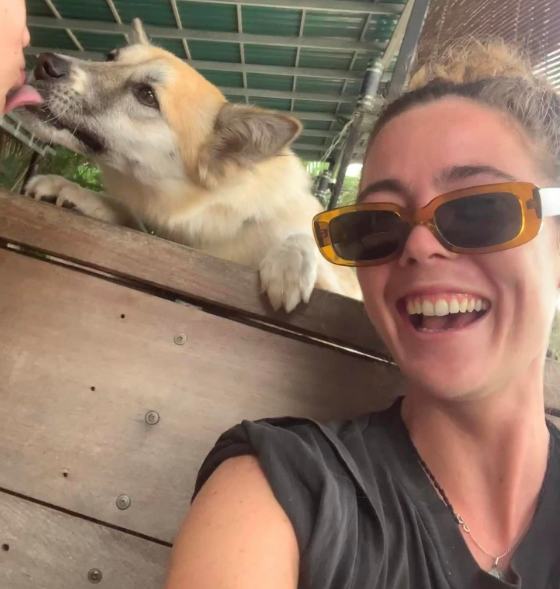 to view the images : click on them and then navigate with –> / <–
Joe get a Motorbike for 660$
My Honda SL 230ccm 
Renting a motorcycle for 2 months would come to 320€ – buying and then selling again is the better option. There is Khmer24.com something like ebay here. So it is really easy. Yesterday I also found something and am very happy with it. 
I have a contract of sale in english – khmer written me a copy store searched him pressed and …. was really surprised when the seller even came with a contract of sale. 
Instead of signing a fingerprint is left here.
660$ was the price 
 it has a license plate but there is no tax or insurance for scooters and motorcycles. It is possible to take out voluntary insurance, which is recommended for foreigners.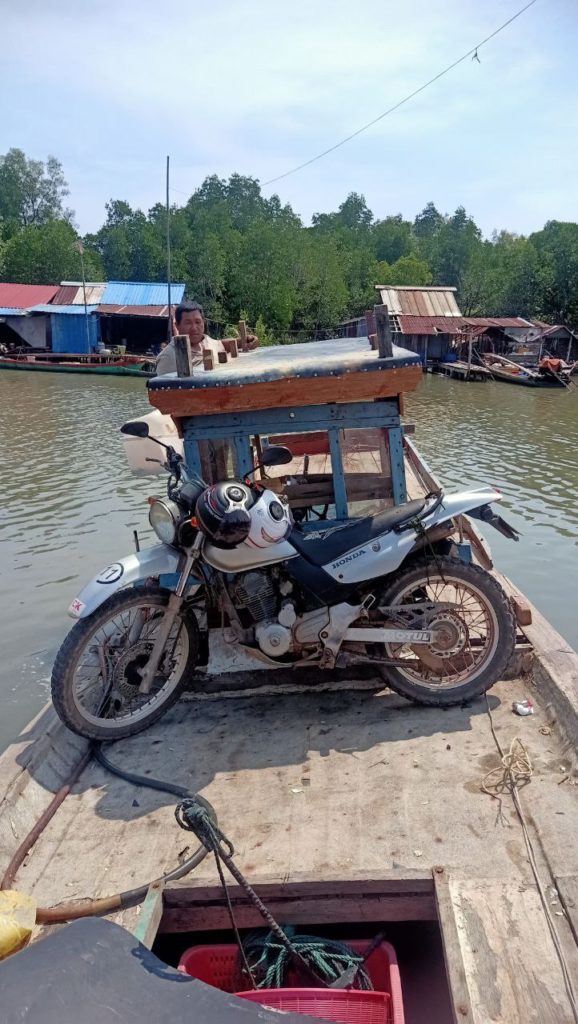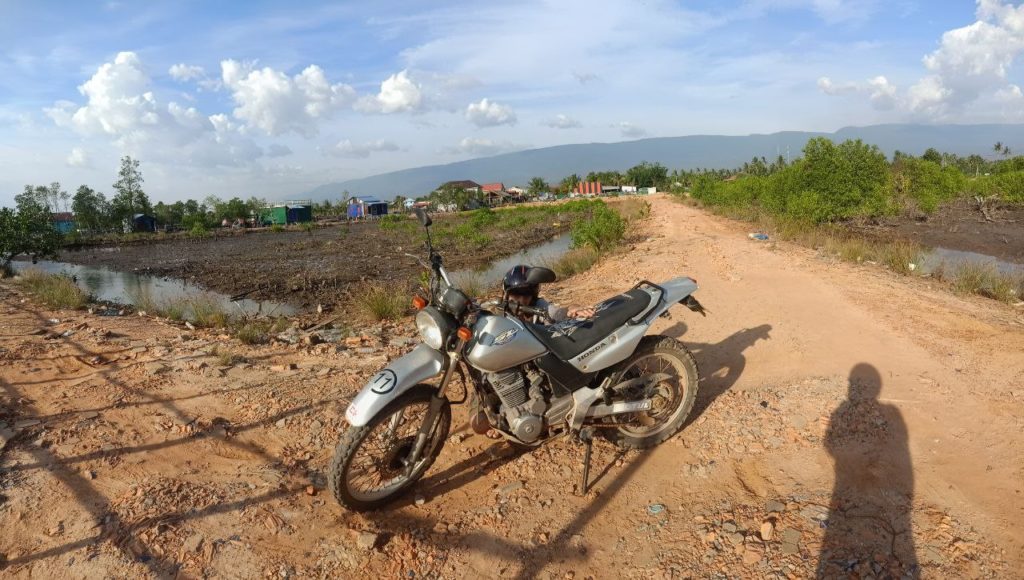 My home office at Kampot – the internet connection via metfone 
A good network connection is quite important for me because I want to work online here. Initially, I was quite satisfied with the network in my apartment, but when all the residents of the other 4 apartments were there it turned out to be a connection for all and it get stuck. 
56€ for 3 months minimum term is ok. After I paid cash to the employee of the network operator and he came 2h later with a colleague and a roll of cable and a new rooter. 
Cables are laid here much cleaner than I know from Nepal.
The man asks me for my desired name and PW for the Wlan set it up fix with his phone and ready. Not asking for my Name, no signature, no ID, so simple it can be. I enjoy a small taste of anarchy in a world that wants to bring more and more people under control. 
I've worked a lot less online than I planned to.
The 20GB for $5 would have been enough as a hotspot via mobile, but I'm just interested in the conditions here and what speed and availability you get here.
Conclusion: very good – offline in the whole time only 2 to 3 times for a few minutes speed also at the main times quite good. At night between 24:00 and 5:00 (my main working time) very well.
Theravada Buddhism in Cambodia
I'm not sure if the photo gets it across: the contrast between one of the two Naga towers – a gigantic luxury casino (the modern sites of money laundering) and this Buddhist statue couldn't be greater.

In Cambodia I am somewhat involuntary. I love Myanmar and would have been very happy a 3rd time again there. Unfortunately, the military has couped and the situation is unclear in 2023. 
I assumed that I would find a monastery here where I could practice vipassana. But the tradition here is very different from Myanmar and also Thailand. One of my teachers Akincano, once explained the background of the hospitality towards lay people in the monasteries in Myanmar. The British colonialists wanted to appropriate the lands of the monasteries in Myanmar because they officially belonged to no one. The large plots of land of the monasteries were not registered in the land register. No one from Myanmar would have dared to steal land from a monastery. The British occupation forces had plans to change this and sell the land cheaply. Buddhism as a monastic system was seriously threatened. As a defense, the monks brought laymen into the monastery and taught them everything, fearing the worst. 
The British could not cope with the impassable terrain and the stubborn mountain people with their 20 different languages, so they concentrated more on India and Myanmar ensured the survival of the Buddhist culture. This historical threat has had the positive effect that Theravada in Myanmar is the most lay-friendly in the world. Only Myanmar has an unlimited meditation visa. If you wish you can meditate in a monastery there for the next 20 years, the monasteries simply extends your visa endlessly without any fees. You are equal to the monks in terms of practice and teaching and practice with them. You eat with them, stand in line to eat in front of the monks – a gesture of hospitality. 
Ok all this I had learned and appreciate in 3 months in Myanmar and had something similar in Cambodia expected. But it is far from it. Already in December in Dresden I learned from Wnag a martial arts trainer from Cambodia –  living in Dresden – that you can not meditate in the monasteries in Cambodia, also not the locals. 
It needs to ordination, otherwise you can only come as a tourist and take photos.
ufff …
A longer web search on the topic of "meditating in Cambodia" did not bring a single article on the subject – this confirmed what Wang said. Even Akincano, who is very well connected and has been a monk in Thailand for a long time, could not give me any contacts. 
So I decided then just to get to know the country – the flights were already booked.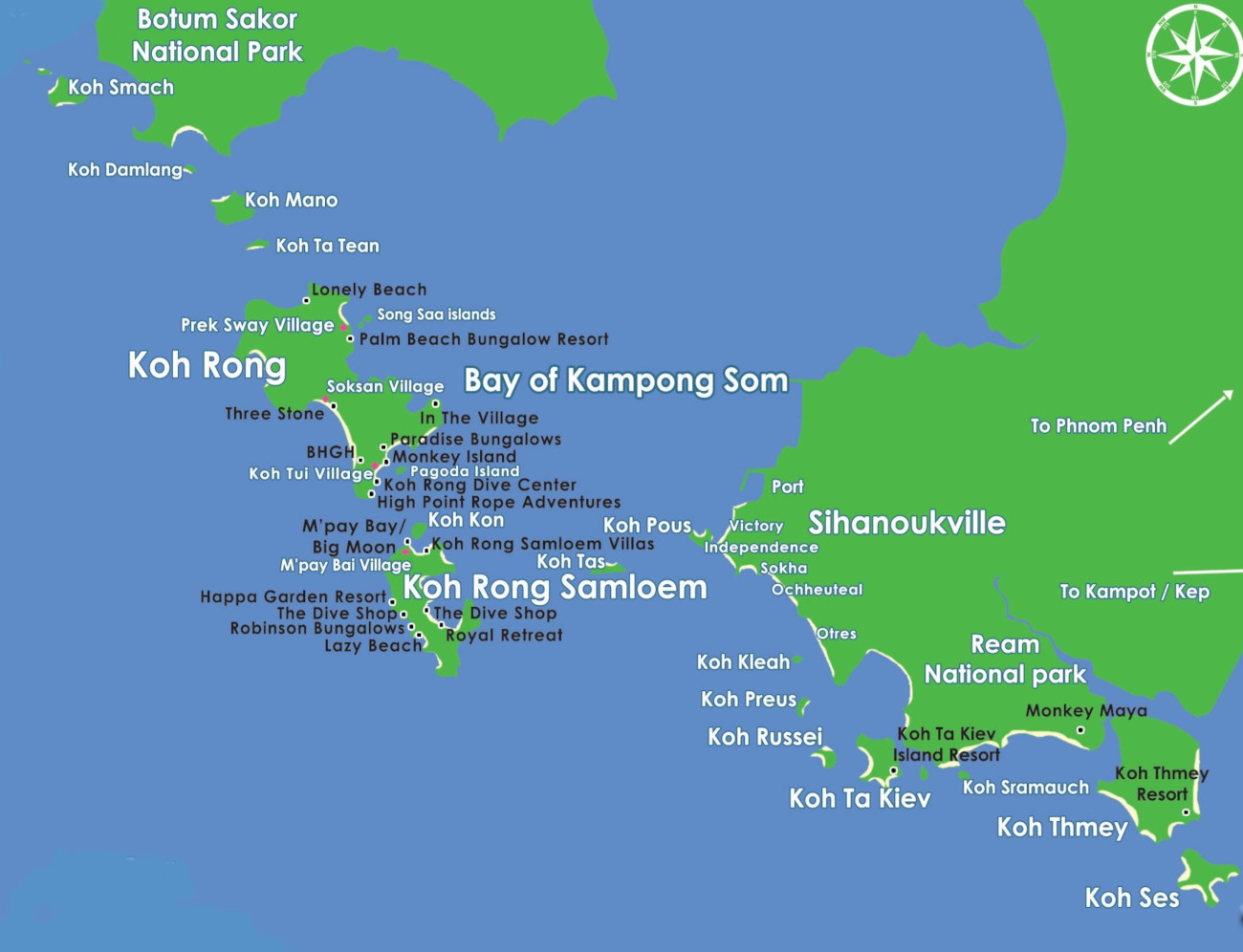 Islands in Cambodia
To say it a little harshly and directly: if you want to go to an island – you are wrong in Cambodia!


I didn't come to Cambodia for beautiful beaches, my body feels better with a minimum of exercise and meaningful work.
Still, I enjoyed finding the best ways to do it
To say it a little harshly and directly: if you want to go to an island or to a beautiful beach – you are at the wrong place in Cambodia!
Why ?
The times when Cambodia had small paradises for backpackers are over.
Everything that is somehow beautiful is in Chinese hands and the way Chinese investors think and build tourism is not at all compatible with our European ideas. What you add to masses of concrete you have to deduct in terms of aesthetics and beauty.
It also seems to me to have a strangely one-track focus on a wealthy upper class. As if that's the only way to make money. Hardly you get anything for less than 50€/night.
But if you have decided on Cambodia and are looking for the exception to the rule:
here it is : 
koh-thmei-resort.com/gallery/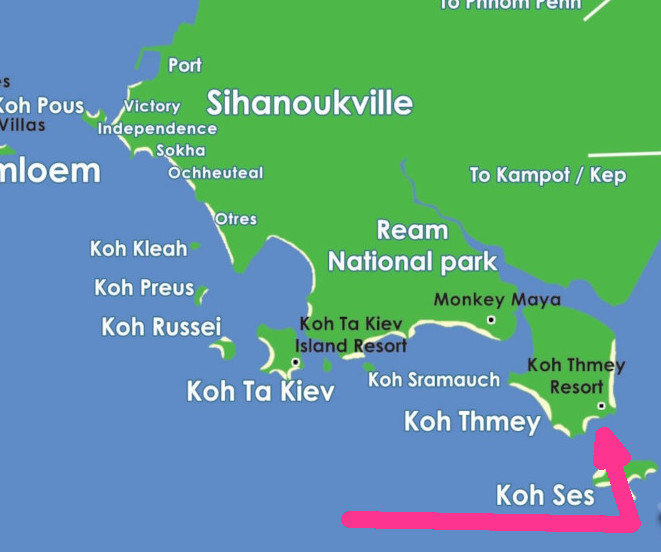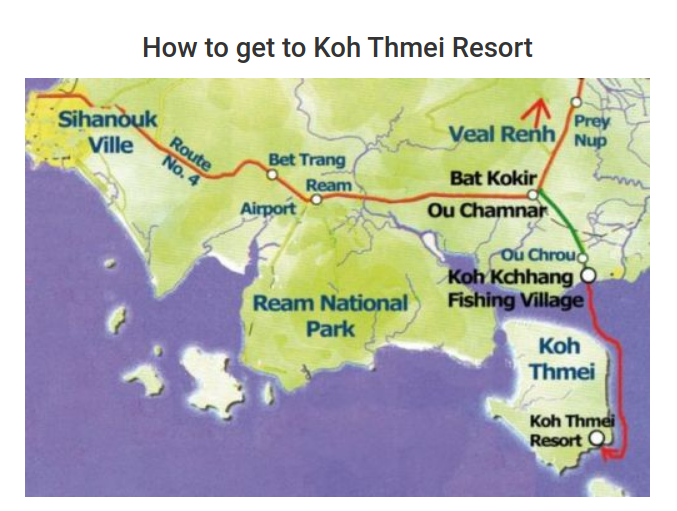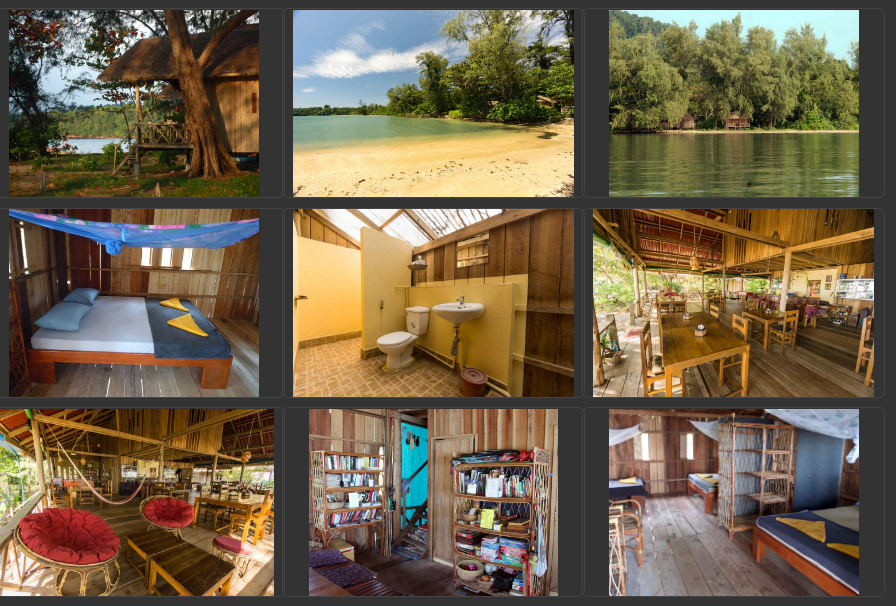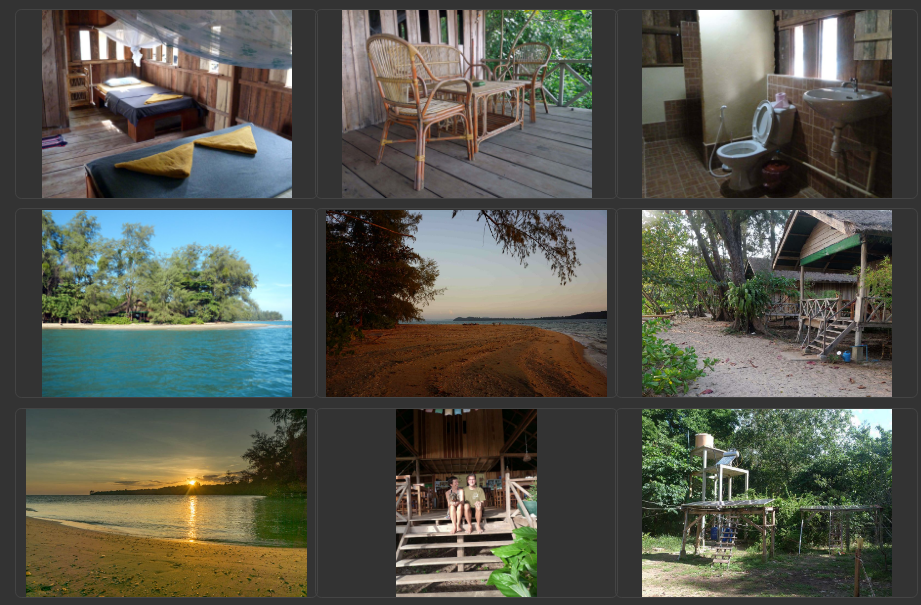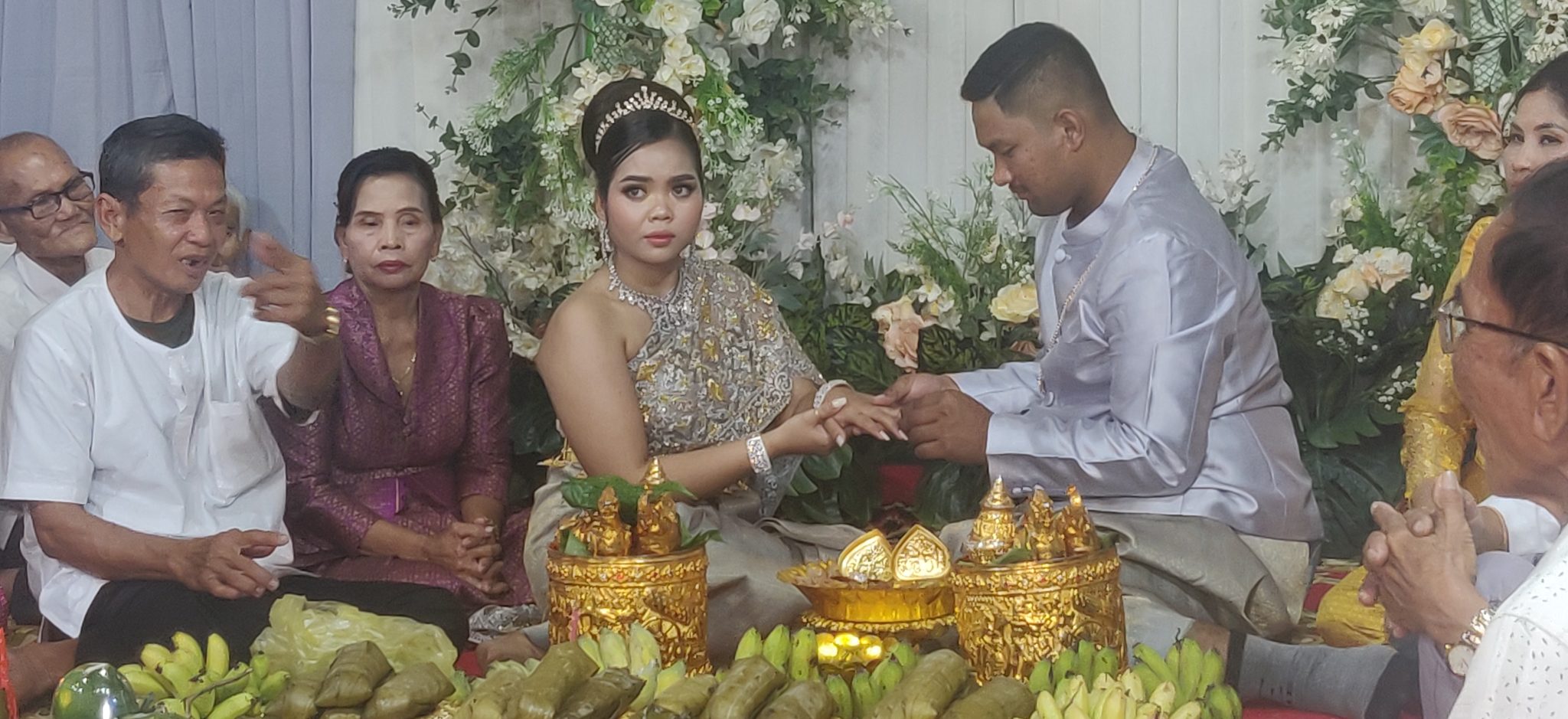 at an engagement event
Cham, the restaurant manager from Phnom Pengh asked me if I would like to come to an engagement party of one of her nieces in the country. I briefly made sure, that she would not introduce me to her family as her future husband – she just laughs only and says: no everything is well. And I say ok. 
For me this is the first time that I experience countryside of Cambodia. Even if it sounds hard: it repelled me rather than attracted me.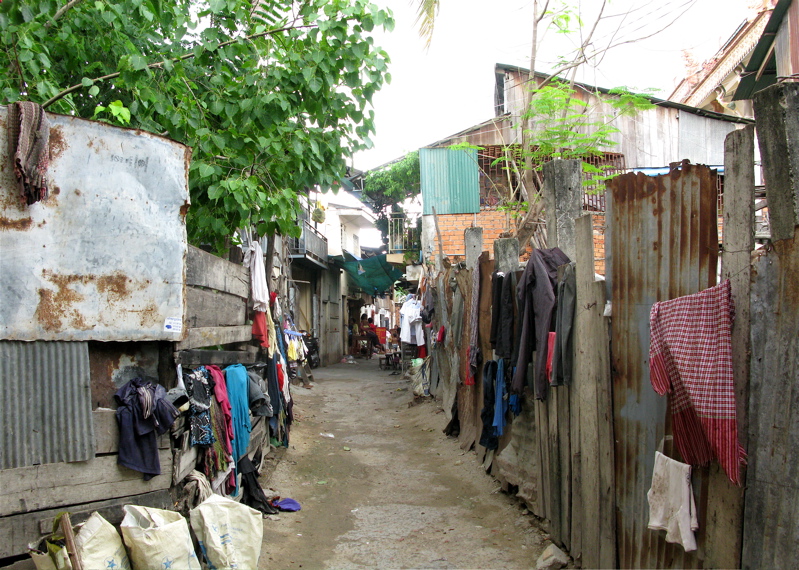 Joe door to door with the poorest in Phom Pengh
Now that I had found out that all the interesting people I would like to meet live in Phnom Penh, I felt like renting a flat here for the 2 months so that I wouldn't always have to book a guesthouse. Since I already had a nice and big place in Kampot, I thought that it could be small and cheap in PP.
I had discovered khmer24 I and searched there for apartments. I found offers from 40€ / month.
All use Telegram here – Whatsapp hardly – much to my delight. So at telegram to 10 sheap offers written – the dont no English can not answer anyway. The first answer I took directly.
So unusual I have never lived – the environment is slum-like. Everywhere garbage a labyrinth of tiny ways because of the 4th backyard in an poor neighborhood of Phom Pengh.
But yes – I like adventure and so I bought a mattress at the same day and slept there. From the neighboring rooms one is separated only with some corrugated iron, one hears every noise and is what we would call : " in my 4 walls".
I had probably as much cash with me as the next 50 people around.
The unfamiliar environment then created in the first night also a kind of nightmare : I had not something like that for since my childhood. Someone tried to rob me in my sleep and that on was on me. I tried to get the knife under my mattress but it didn't work. When I had him a little away from me I tried to turn on the light but that did not work either.
Next sequence : I became aware that at the place was obviously cruel acts of violence and its still something is stored here. As information or parts of Selena that are still there, however you want to describe it.
I tried to grasp what it was all about. Murder in multiple ways, but that were not quite clear. Not directly in this room, the house did not seem to have existed at that time, but here at the place. I tried to find a local shaman to clear this up otherwise I can't sleep here anymore.
Then I woke up.
ufff
I remembered the fairy "tale of one who went out to learn to be creepy".
Ok last night in my dream : that was scary.
If the 2nd night is also like that , then maybe this won't work here.
At this night the knife was next to me and not under the mat and I slept very well and had no nightmares.
The dogs the even during the day growling and barking still annoy me, but it seems here not to be as I know from reports from Columbia or Mexico.  Poor area – but quite friendly.
The walls in my apartment need some new paint. I could paint them like I did in India and Nepal with every apartment I rented. But I have less time and ask the owner if it is posible to get new colored walls for 20€ ? 25€ he says and he pays the paint.
Fine !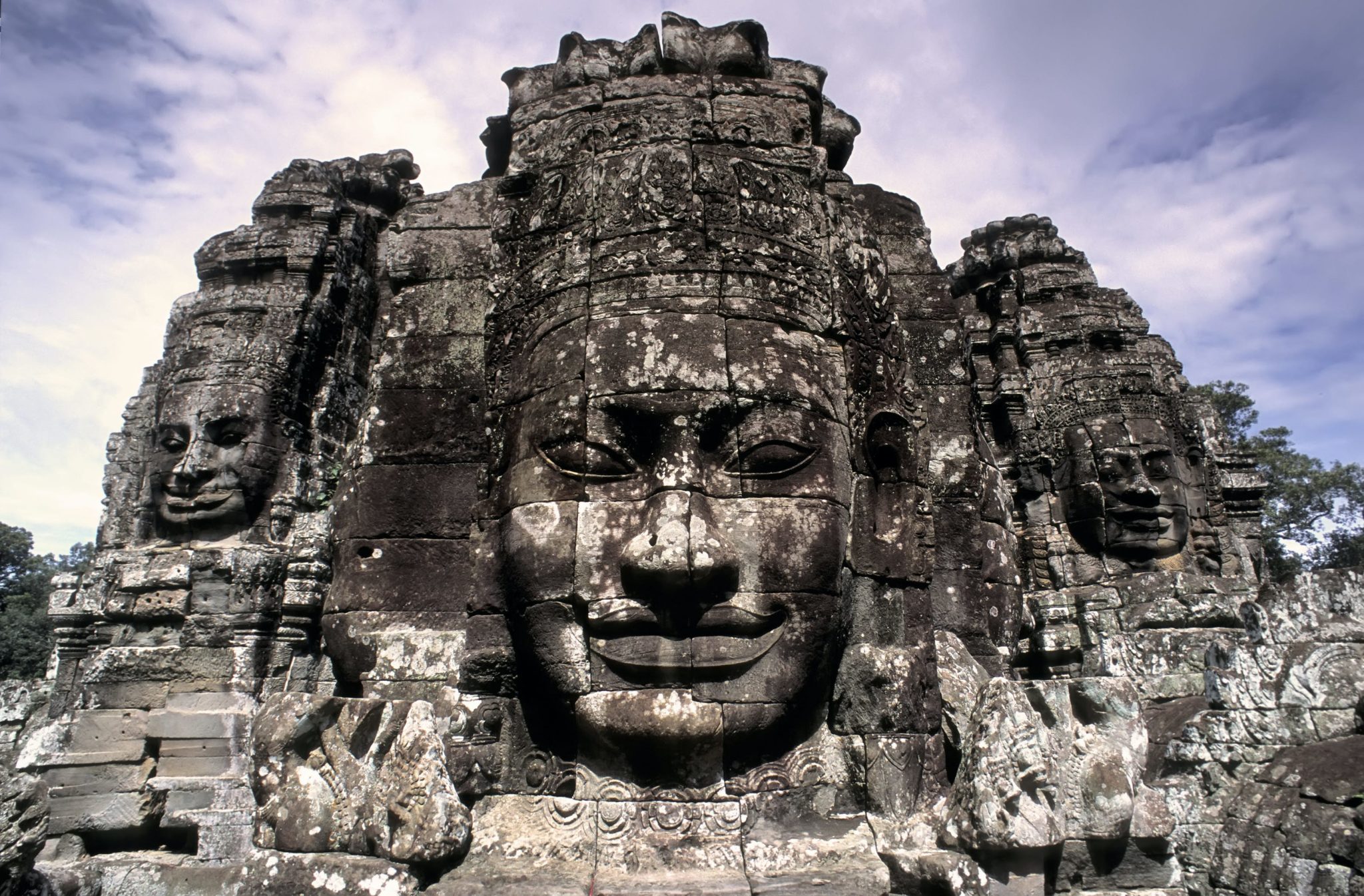 "The high light of every trip to asia – write the travel guides." 
And yes I can say after the visit Ankor yesterday this is on the level of the Egyptian pyramids.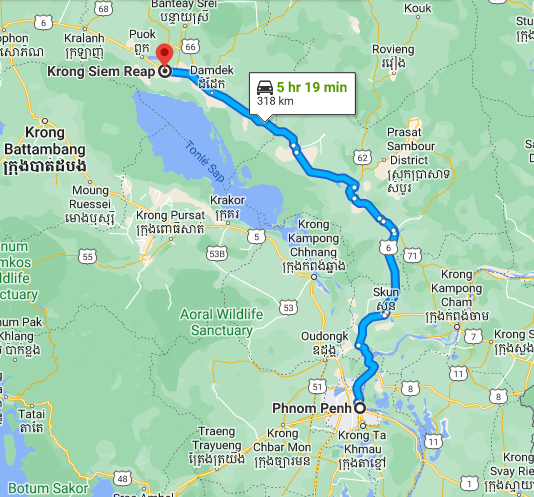 the first long tour with the motorbike
I'll keep on blogging for you
and look here from time to time !