this travel blog is written in english –  wer den Blog lieber in Deutsch lesen mag hier :  #google# 
2 months  Cambodia  

I'm a Buddhist and in Germany Buddhists are a minority. Usaly – when I'm in Buddhist countries I immediately feel at home.
Now let's see if this is also the case in cambodia ! 🙂
I have already visited some Buddhist countries. I then usaly look for monasteries to meditate and look around the country with by bicycle.
I was in Myanmar three years ago. I would have loved to go back to Myanmar, but there was this military coup.
So I am 2023 in Cambodia. I took 2 months to do this. 6 weeks alone and the last 3 weeks I will explore the country by bicycle with Rebekka, my girlfriend from Germany. I packed a bike and took it with me on the plane. Whether a carbon frame and a mountain bike are a good combination ?
I will find out !
I would not buy a bike for 2000€,  but if it is for 460€ to get – OK ! I get it on ebay just 3 days before departure.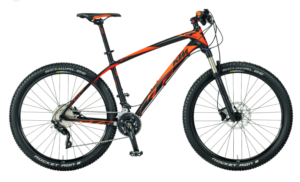 2 TV boxes served as packaging and so it went off into the plane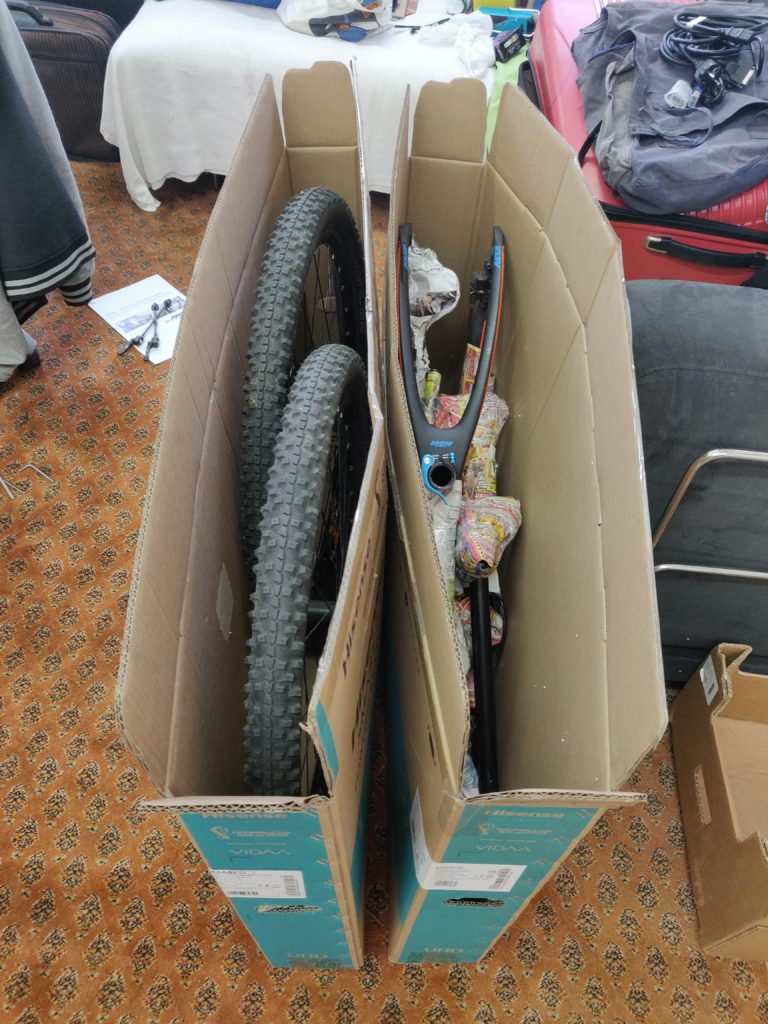 In cambodia is now an app like Uber – it has never been so easy to drive tuck tuck
The driver drives by navi and there are no discussions about the price.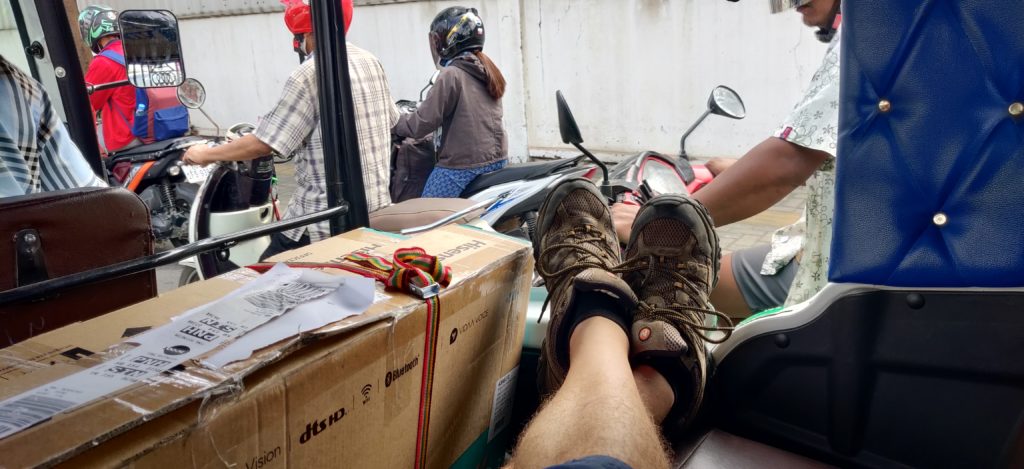 Udong Mountain  – The Old Capital
You will climb the hill from the back of the ridge and go down the hill from the 509 steps stairway. Several religious structure and royal stupas which contain the remains of several great Khmer Kings dot the ridgeline of the hill. The summit of Phnom Oudong offers spectacular views of the surrounding countryside; the beautiful Kandal Temple peacefully sits in the middle of plains and rice fields.
The most popular dating app in Cambodia is Badoo.
Four weeks before my trip I created a profile and wrote to several women from Phnom Peng.
Sounds fun ? It was work to navigate through all those message profiles and faces to find some interesting contacts.
Cham, the woman standing with me on the stairs, is one of them.
She runs a noble restaurant in Phnom Peng for traditional Khmer cuisine. She has been divorced for four years and laughingly tells me : she has no time for a relationship, because she is married to her job.
In fact, she texts almost continuously on one of her two cell phones. She is intelligent and humorous and we had a very nice day in Udong.
Kampot 
I was a little torn l: big city and big adventure playground or did I want to go right out into the periphery in nature ?
From Germany I had already booked an apartment in Kampot, after two days later then also my bicycle had arrived, it went from Phnom Pengh in the direction of Kampot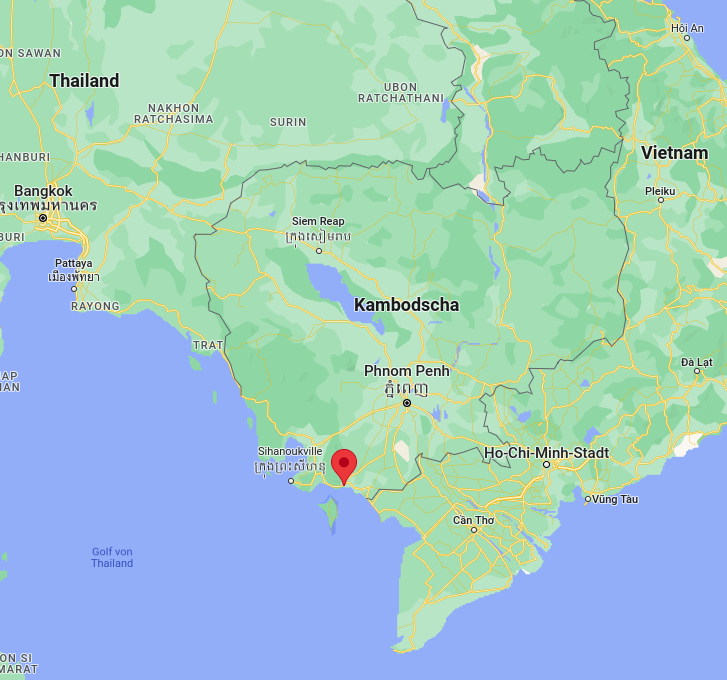 Joes apartment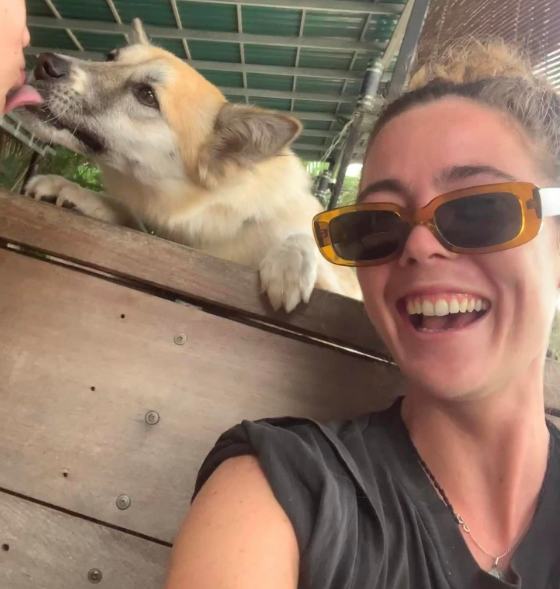 I met Chloe through my web search, she has been living here in Kampot for over 1 year. Originally from UK. 
She likes the mushrooms and always finds them on the ways in the area.
there is not so much to say here for the time, I will write more here when there is something new about mushrooms.
Joe buys a motorcycle 
Renting a motorcycle for 2 months would come to 320€ – buying and then selling again is the better option. There is Khmer24.com something like ebay here. So it is really easy. Yesterday I also found something and am very happy with it. 
 
 
I have a contract of sale in english – khmer written me a copy store searched him pressed and …. was really surprised when the seller even came with a contract of sale. 
Instead of signing a fingerprint is left here.

660$ was the price 


 it has a license plate but there is no tax or insurance for scooters and motorcycles. It is possible to take out voluntary insurance, which is recommended for foreigners. 
A good network connection is quite important for me because I want to work online here. Initially, I was quite satisfied with the network in my apartment, but when all the residents of the other 4 apartments were there it turned out to be a connection for all and it get stuck. 
56€ for 3 months minimum term is ok. After I paid cash to the employee of the network operator and he came 2h later with a colleague and a roll of cable and a new rooter. 
Cables are laid here much cleaner than I know from Nepal.
The man asks me for my desired name and PW for the Wlan set it up fix with his phone and ready. Not asking for my Name, no signature, no ID, so simple it can be. I enjoy a small taste of anarchy in a world that wants to bring more and more people under control. 
Theravada Buddhism in Cambodia
I'm not sure if the photo gets it across: the contrast between one of the two Naga towers – a gigantic luxury casino (the modern sites of money laundering) and this Buddhist statue couldn't be greater.

In Cambodia I am somewhat involuntary. I love Myanmar and would have been very happy a 3rd time again there. Unfortunately, the military has couped and the situation is unclear in 2023. 
I assumed that I would find a monastery here where I could practice vipassana. But the tradition here is very different from Myanmar and also Thailand. One of my teachers Akincano, once explained the background of the hospitality towards lay people in the monasteries in Myanmar. The British colonialists wanted to appropriate the lands of the monasteries in Myanmar because they officially belonged to no one. The large plots of land of the monasteries were not registered in the land register. No one from Myanmar would have dared to steal land from a monastery. The British occupation forces had plans to change this and sell the land cheaply. Buddhism as a monastic system was seriously threatened. As a defense, the monks brought laymen into the monastery and taught them everything, fearing the worst. 
The British could not cope with the impassable terrain and the stubborn mountain people with their 20 different languages, so they concentrated more on India and Myanmar ensured the survival of the Buddhist culture. This historical threat has had the positive effect that Theravada in Myanmar is the most lay-friendly in the world. Only Myanmar has an unlimited meditation visa. If you wish you can meditate in a monastery there for the next 20 years, the monasteries simply extends your visa endlessly without any fees. You are equal to the monks in terms of practice and teaching and practice with them. You eat with them, stand in line to eat in front of the monks – a gesture of hospitality. 
Ok all this I had learned and appreciate in 3 months in Myanmar and had something similar in Cambodia expected. But it is far from it. Already in December in Dresden I learned from Wnag a martial arts trainer from Cambodia –  living in Dresden – that you can not meditate in the monasteries in Cambodia, also not the locals. 
It needs to ordination, otherwise you can only come as a tourist and take photos.
ufff …
A longer web search on the topic of "meditating in Cambodia" did not bring a single article on the subject – this confirmed what Wang said. Even Akincano, who is very well connected and has been a monk in Thailand for a long time, could not give me any contacts. 
So I decided then just to get to know the country – the flights were already booked.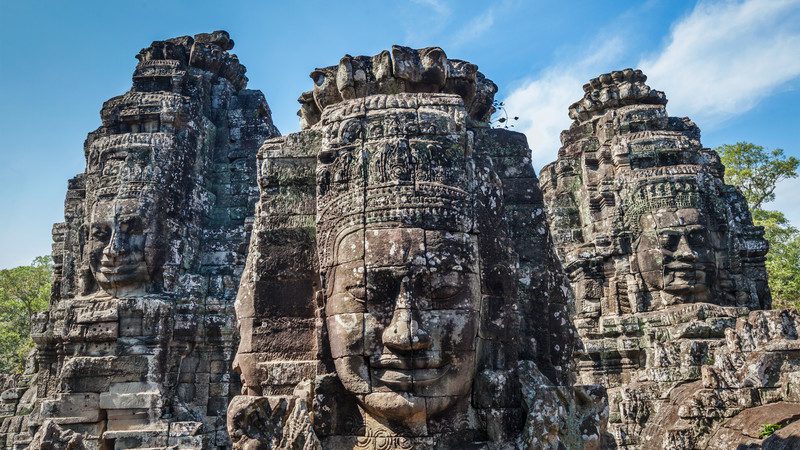 I'll keep on blogging for you
and look here from time to time !